- Story by Darcy Nybo Photography by Nina Dombowsky
The distilling industry in BC has come a long way since the Dyck family opened the doors in 2004 to Okanagan Spirits in Vernon. Up until then, a license for craft distilling was not available in BC. Okanagan Spirits was the first farm-to-flask distillery to distill alcohol since the Prohibition movement in the early 1900s.
Tyler Dyck is CEO of Okanagan Spirits and he's also the president of the Craft Distillers Guild of BC and the Canadian Craft Distillers Alliance. If you ever get the opportunity to talk to him at the distillery, take it. This man is a font of information about everything distilled and he's been fighting for the industry for almost 20 years.
From idea to product
Let's go back to the beginning.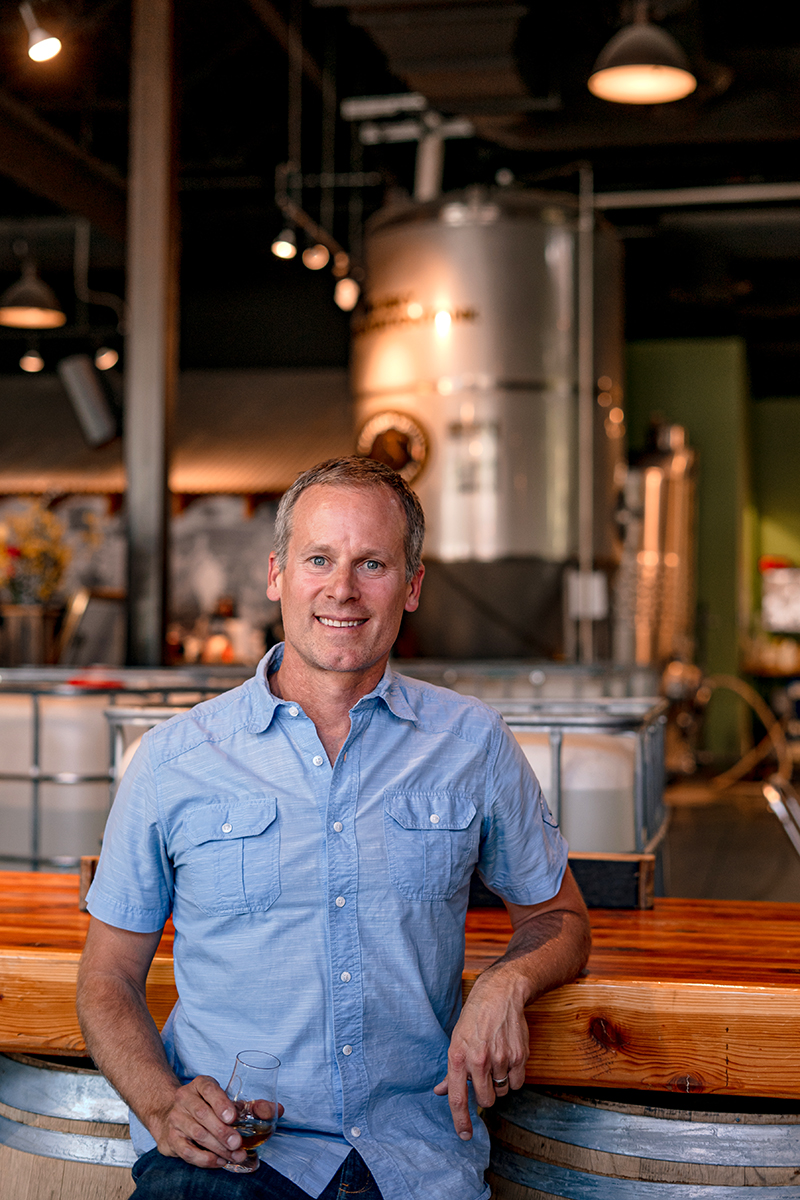 The Dyke family has been in the Okanagan for four generations.
"We wanted to have a product that had a cultural identity connected to the Okanagan. You can grow almost anything here, including fruit, wine and grain," says Tyler.
He and his family looked at the wine industry and realized they could do the same with the spirits industry.
"Today there are over 450 licensed wineries in BC and wine drinkers are very aware that each wine is terroir specific. They create the unique flavours of the province. We can do the same with our spirits—and, as a family, we decided it was time to do the same for distilleries. From 2003-04 to 2013 we operated under an existence where, because of taxes, it cost us more to sell a bottle locally. At that time 80 cents out of a dollar went to the government. It cost us more to produce it."
The family also created delicious fruit liqueurs and, at the same time, helped local orchardists.
Tyler explains, "We realized we could contact and buy from local farmers. We believed if we went back to a true authentic model, locals would support us—and they did. Farmers would tell me it cost them a lot of money to get their unwanted fruit off the trees. So, we paid the pickers and got the fruit for free. When distillation came about, it was from an agrarian base. Over time we developed a product that appealed to discernible palates. We created something that captured the flavours and aromas of the locality in a bottle."
There's more to Okanagan Spirits than delicious spirits, as there is also a tasting experience to go with them.
"When you taste premium spirits, it's about the experience. It's not about the consumption of our product," says Tyler. "People leave our place with the stories behind our beverages, with the flavour and the history of the area. We help people to capture memories."
Awards
Since opening its doors, Okanagan Spirits has won more awards than can fit in this story. It was awarded Distillery of the Year at the 2013 and 2015 World Spirits Awards (Klagenfurt, Austria in 2013 and Køge, Denmark in 2015). In 2013, it also became North America's only world-class-rated distillery.
Authenticity
A cornerstone of the company is authenticity.
"Be authentically you, unapologetically," says Tyler. "That's what we do. Once you've tasted our spirits you'll notice that every year's batch tastes just a little different. Climate, what our grains go through in the growing process, and even the distillation process are different every year, so our product flavours change. The same goes for our liqueurs."
As far as Tyler and his family are concerned, authenticity is more important even than the product.
"The authentic brands will survive. They are the ones that are trusted now. We grow all of our grains locally around Vernon and Kelowna, but the majority are North Okanagan grains. Our idea is that this is where we grew up so we want all of our spirits to taste as local as possible."
Whisky that goes fast!
Most of Okanagan Spirits' sales are direct to consumers. You can get them at some specialty liquor stores, but not all.
But for the distillery's coveted Laird of Fintry Single Malt Whisky, they need to run a lottery each year. If you win, you get to purchase the product first before what's left gets sold to the public.
Or, if you prefer, you can join the Barrel Room Whisky Club and receive one 750 ml bottle of each of six premier whiskies.
It's about community and beyond
One of the great things about purchasing from Okanagan Spirits is you know you are getting a product produced by people who care about their community. Not only does Okanagan Spirits source all its ingredients locally, but it also contributes to the community.
"We are stewards of the land," says Tyler. "All our fruits and grains are grown without sprays and once we are finished with them, the spent grains and fruits go back to feed goats and cattle."
During the COVID-19 pandemic, the Dyck family chose to help out first responders and front-line workers.
"We destroyed about a million dollars' worth of booze to make and supply the government with hand sanitizer for hospitals, fire, police, band offices, et cetera. We donated it all. A lot of whiskies didn't grow up to be great."
Okanagan Spirits also has a unique way to reduce its carbon footprint.
"We may only get one barrel of good whisky out of one ton of grain. Then we redistill it and make fuel for our vehicles. Every time you see an Okanagan Spirits vehicle, it's powered by fuel that we make right here in Vernon.
Cocktail, anyone?
Okanagan Spirits now creates over 50 products, available at its Vernon and Kelowna locations. It has fruit brandies and liqueurs, as well as absinthe, aquavit, vodka, gin and whiskies like rye, bourbon and single malt. It even makes its own simple syrups to go with its cocktail recipes.
If you're unsure of how to make cocktails using these spirits, the distillery offers a cocktail-making experience. First, you get a tour and then you get a demonstration of cocktail-making techniques, tools and ingredients. Once you've seen the pros do it, it's time for you to get hands-on and make your own.
As Tyler says, it's all about the experience.
Story courtesy of Boulevard Magazine, a Black Press Media publication
Like Boulevard Magazine on Facebook and follow them on Instagram