Hospice care is something many of us don't think about until a loved one begins an end-of-life journey or we're grieving the loss of a friend or family member.
Yet that care is being provided every day here in the Comox Valley by skilled, compassionate medical teams, counsellors and volunteers who last year supported more than 860 individuals.
"The Comox Valley Hospice Society has been supporting the community for 40 years," reflects Executive Director Christine Colbert, noting all programs and services are free. "And with 70 to 75 per cent of our funding coming from donations, fundraising and grants, the community's generosity is essential – it allows us to continue offering palliative and end-of-life care, and grief services for those left behind."
For example, one annual donation of $500 supports 10 one-on-one counselling sessions, group opportunities and resources for those facing a life-limiting illness, those anticipating the loss of a loved one and those who are actively grieving a recent loss, Colbert notes.
The Society also offers free Advance Care Planning workshops and facilitated conversation cafés open to anyone who's interested in topics around mourning and and experiencing a life-limiting illness, and who wants to find connection and community.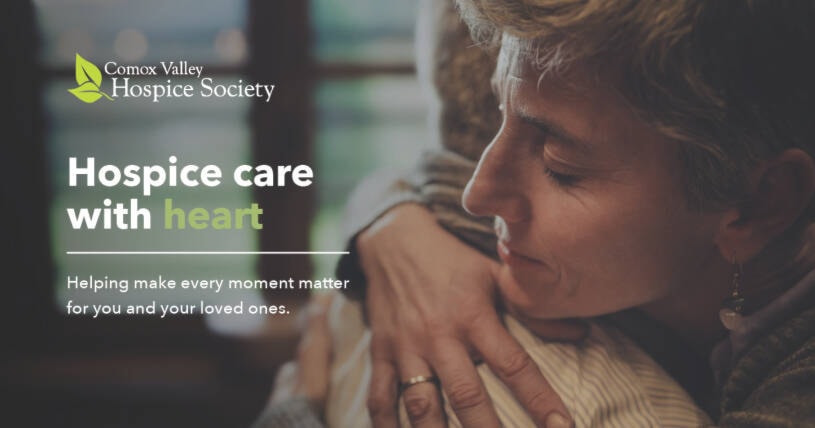 Many ways to make an impact
Throughout its history, partnerships have been key to Comox Valley Hospice Society's success, says Colbert, welcoming the opportunity to speak with employers, businesses and individuals who'd like to help ensure hospice care in all its forms is available to those who need it.
In addition to direct donations, community fundraisers, for example, help raise both vital funds and awareness and for their diverse services.
Every gift, large or small, makes a difference, Colbert emphasizes.
"Some prefer to give to our general fund, which lets us direct money where it's needed most, while others give in the memory of a loved one – maybe on their birthday or on the anniversary of their passing," she says. "For others, a small monthly donation is a simple but meaningful way to support hospice care in an ongoing way that also helps us plan for the future."
Leave a meaningful legacy
For those who've experienced the power of compassionate hospice care, leaving a gift to the Comox Valley Hospice Society in their will is a way to celebrate their life and their values.
Many options are available, such as lump sum bequests, and gifts of stocks or other investments. You can even name the society as the beneficiary of your life insurance policy. Various options can also bring significant tax benefits today to your estate – do check with your financial planner to learn how to maximize your impact today, and tomorrow.
To learn more about Comox Valley Hospice, including how you help, visit comoxhospice.com