Moonlight & Magic 2023 - the Electric Creatures Edition is just around the corner! Head to the heart of Courtenay on Friday Nov. 17 for an evening of music, merriment, merchant specials and more.
Moonlight & Magic welcomes the whole Valley to visit Downtown Courtenay to discover the incredible shops, eateries and cultural destinations that call Downtown home. Bring out the LED and help light up the streets of Downtown Courtenay with electric creatures big and small. Throw on your fuzzy sweater, grandma's furs, or animal onesie and wrap yourself up in light.
Enjoy some delicious eats from local cafes, restaurants and visiting food trucks. Drop by and create some cool festive crafts with the kids. Visit local community organizations who raise funds for community projects, and explore the Courtenay Museum "after hours". Don't miss the interactive art installation on Duncan Ave with Comox Valley Arts where participants use light, audio and movement to create art.
Be sure to catch the official community Tree Lighting and sing along at 5:30 p.m. at the corner of 5th Street and England Avenue, then head out for fun at the 5th street dance parties!
The Upper 5th Street Party is sponsored by Pizzeria Guerrilla and Taco Bandito features hometown West Coast hip-hop soul artist Oktiv6 and DJ Miss Mar starting at 6 p.m., Otiv6's music reflects where he lives - Vancouver Island. His videos are shot around the Island, including Buckley Bay ferry terminal, and even tubing on the Puntledge River. Miss Mar is a Comox Valley based classically trained musician who has turned her focus to curating sets filled with high definition musician ambiance that allows listeners to feel free and inspired to express themselves on the dance floor.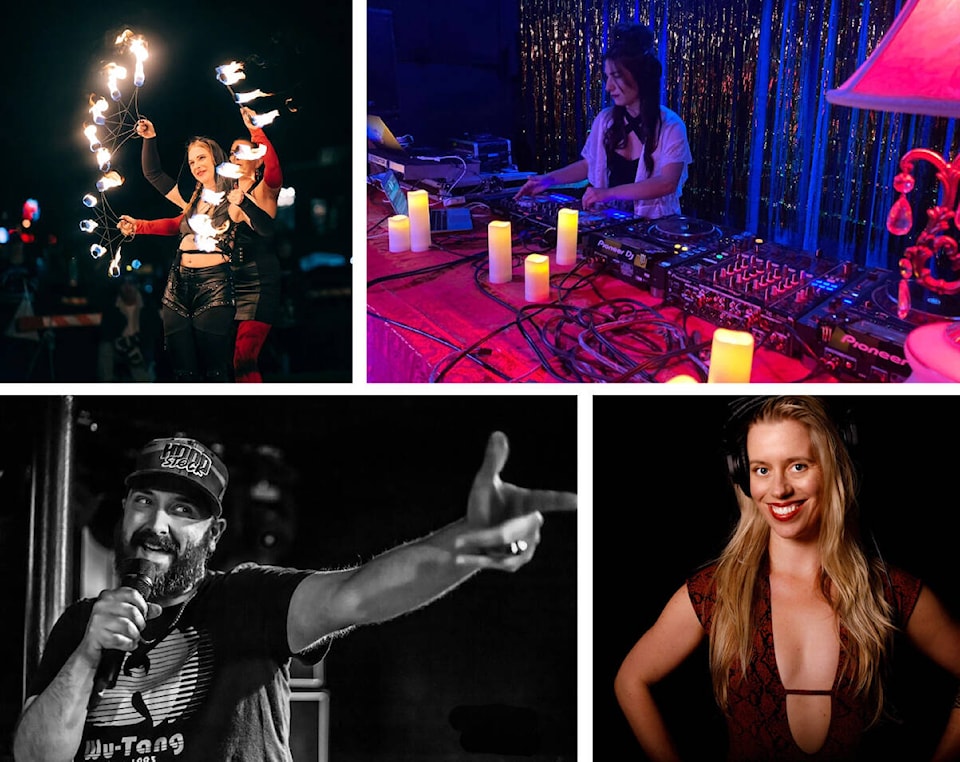 The Duncan Avenue and 5th Street Party kicks off at 5 p.m. and culminates in a community dance-off and costume contest at 7:30 p.m. with the amazing LadyK! LadyK is a DJ, producer and pole athlete based on Vancouver Island. She delights crowds with her internationally-flavoured house music. She's played festivals including Tall Tree, Song and Surf, Atmosphere Gathering, Diversity and Carrington Bay and has shared the stage with the Librarian, Tanya Taqak, Dakini, Erica Dee, Delhi 2 Dublin, Kytami, Snotty Nosed Rez Kids and many more.
At 8 p.m. you can head up to Duncan Avenue for the much anticipated Fiery Finale with Ignisia Circus in front of the Comox Valley Art Gallery. Ignisia Circus is a fire, flow & dance performance troupe who offer an incredible convergence of skilled technique, graceful dance, and magnetic stage presence to create an unforgettable act.
The entire Valley is invited to light up the streets and our collective spirits heading into the festive season! Visit Downtown Courtenay on Facebook for event details and updates! Moonlight & Magic is presented by the Downtown Courtenay Business Improvement Association with support from Foveo Running, Comox Valley Arts, Comox Valley Art Gallery, Elevate, Pizzeria Guerrilla and Taco Bandito.