There are many benefits to replacing old windows. They can improve the aesthetics and comfort of your home, increase energy efficiency and reduce utility bills, bring in more natural light and improve functionality. Quality products like vinyl windows also last for decades, meaning you'll have lasting peace of mind — and if you sell your home, quality windows can offer a 70 per cent return on your investment!
For homeowners seeking quality vinyl windows, the Nanaimo company Ecoline Windows is a trusted option. They've been serving clients on Vancouver Island and across Canada for over 10 years, completing over 40,000 installations! Not only are they experienced and professional, they'll also help you make an educated decision about which products to choose, and how to access all available rebates.
There's lots to consider before moving ahead with a complete window replacement. For example, should your windows be replaced or retrofitted? The window experts at Ecoline Windows can walk you through a six point inspection that makes the decision more clear.
6 point inspection for window replacement:
Window panes: If your windows are single pane, it's a good idea to replace them. Installing double or triple pane energy efficient windows may cut heat loss by half.
Window glass: Look for glass that's broken, loose or has trapped moisture between the panes. Condensation between window panes means the seal is broken and the window is no longer providing energy efficiency. Contact the original manufacturer to find out if they can replace the glass (and to check your window warranty), or consider full window replacement.
Window material: The lifetime of vinyl windows is at least 20 years. Whether your windows are made from vinyl, aluminum, fibreglass or wood, inspect the material for signs of rot or damage.
Air leaks: Light an incense stick or candle and walk around the window frame to look for drafts. If the window doesn't have too may air leaks, new caulking and weatherstripping may be all you need.
Window hardware: Check for loose or faulty hardware, and assess the ease of operation. Sometimes replacing hardware can postpone a major window replacement.
Condensation: If there's condensation between the panes of your window, they may need to be replaced. But if the condensation is on the room side of the glass, your windows are actually likely in great shape! Balancing the humidity inside your home should solve the issue.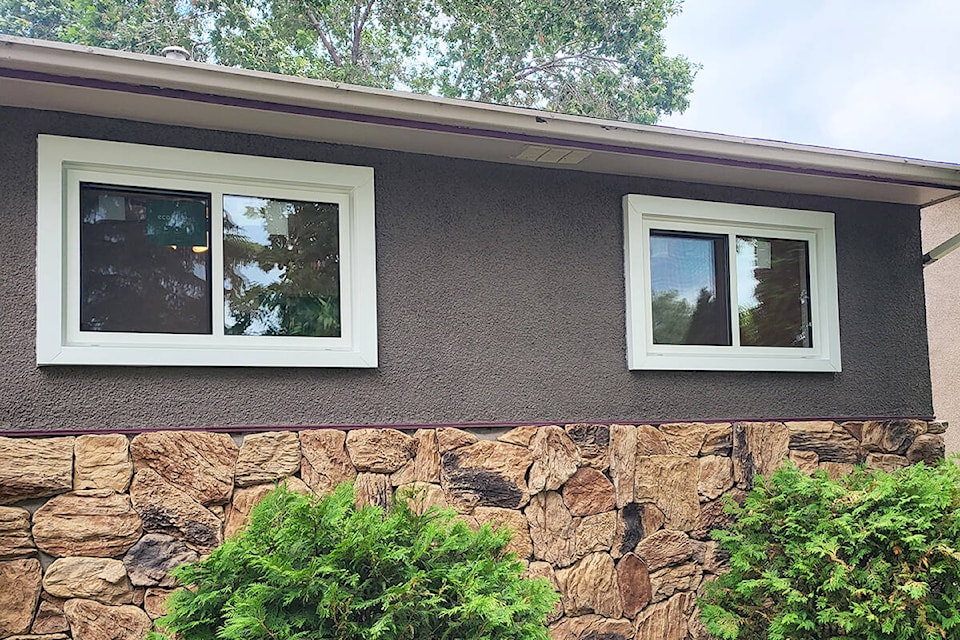 Save money when you replace windows
If you've completed an inspection of your windows and see signs of age or damage, replacing your windows has many benefits:
Improve energy efficiency
Increase home value (return on investment of as much as 70 per cent)
Reduce noise
These and other benefits make window replacement a great choice, but replacing all windows in your home can be one of your largest home renovation expenses. Use this window replacement cost estimator to get a sense of your required budget, and consider these tips to make window replacement more affordable.
Retrofit vs. full frame installation: Not all windows need to be replaced! Save money by only replacing glass or hardware, or retrofit windows by installing new windows into existing frames.
Don't replace all your windows at once: To spread the cost over a few years, replace only a few windows at a time.
Take advantage of window rebates: Thousands of dollars in government rebates are available for residential renovation projects that reduce energy costs!
Window rebates and grants in British Columbia
British Columbians can earn rebates and grants for completing residential renovation projects that reduce your home's energy costs. Professional companies like Ecoline Windows can help you figure out which rebates and grants apply to you, bringing you significant savings!
CleanBC Rebates, also known as the CleanBC Better Homes Income Qualified Program, helps low-income households complete improvements and retrofits to help make homes more comfortable and energy-efficient. Low-income families may obtain rebates between 60 to 90 per cent of the renovation costs, including up to $9,500 for windows and doors.
The Canada Greener Homes grant also helps Canadian homeowners improve their home's energy efficiency. Alongside rebates for things like insulation, air-sealing, water heating and resiliency measures, Canadians can receive up to $5,600 for windows and doors.
The British Columbia Energy Efficiency Rebate Program includes a variety of qualifying upgrades:
Replacement windows and doors — up to $2,000
Insulation — $1,200
Air source heat pump — up to $2,000
Electric heat pump water heater — $1,000
Extra rebates available when homeowners complete two or more upgrades within 18 months.
As of Oct. 1, 2019, homeowners can receive up to $2,000 on select windows and door replacements. Windows and doors with a U-Factor value of 1.40 to 1.23 (W/M2-K) qualify at $50 each, for a maximum rebate of $1,000. Windows and doors with a maximum U-Factor of 1.22 (W/M2-K) qualify at $100 each, for a maximum rebate of $2,000.
The U-Factor relates to the rate of heat loss of a window assembly including the glazing, frame and spacers. The lower the U-Factor, the better insulating properties.
To qualify for the rebate, home owners must meet three requirement standards:
To consult with window experts to find a cost-effective solution for your home, call 778-403-4748. Ecoline Windows serves central Vancouver Island and the Comox Valley from their location at 107-1875 Boxwood Rd., Nanaimo.